Since the end of World War II, Japan has earned an excellent international reputation for its quality craftsmanship or monozukuri based on the Kaizen continuous improvement philosophy. However, nowadays companies must also provide value-added products that meet the latest market requirements. As a manufacturer of handicrafts, could you tell us what is for you the essence of monozukuri?
This question covers a really broad topic, so it's hard to fully answer. From the perspective of the craft industry we are in, we want many people to be able to enjoy crafting (monozukuri). Our company operates under the business philosophy of "making people happy all over the world through handmade crafts". We want to make people around the world happy and enrich their lives not only with tools and materials to enjoy handmade crafts, but also with information on how to make and enjoy handmade crafts and workshops where people can experience artisanal craftsmanship. We believe that handmade craftsmanship has the power to make people happy and enrich their lives.
Chinese or Korean alternatives exist for these small, everyday products like stationery and crafts, but Japanese manufacturers such as Mitsubishi's Uniball pens are some of the best-selling pens in the world. other small components that are appreciated all over the world, for example in your company. craftsmanship. Why do you think Japan was able to overcome this tough regional price competition and succeed?
As far as our company is concerned, we are manufacturers, but we strive to have as much contact as possible with end users and listen to their voices. For example, we participate in many local events where many consumers gather to hear directly from our customers, and we use their feedback in the development of our products and various services. In addition, when we place advertisements in magazines, we include the telephone number and email address of our customer service center to ensure that the voice of our customers is heard as much as possible. These efforts require a lot of resources, but they lead to further improvements in our products and services. In my opinion, including in the stationery industry, a sincere attitude towards customer feedback will make our products and services appreciated by many customers.
Japan's population is the oldest in the world, with 28% already over the age of 65, and it is also decreasing due to the fertility rate which is currently 1.37. This creates two problems, the first being the shrinking domestic market, and the second is that there are fewer talented graduates to hire. What challenges or opportunities does this issue present for your business?
One of the challenges Japan faces is population decline, which may lead to a decrease in the size of the handicraft market. However, the number of people who love handmade crafts is not so large compared to the total population, and we believe that there is still room to convey the joy of handmade products, we so let's not see that as a major problem for us. In terms of recruitment, it is clear that the competition for employment is becoming more and more intense every year, so we believe that we must actively communicate about our company, our objectives and our corporate culture through advertisements in the magazines, our website, SNS and other means.
In our research, we found that in the United States, over 90% of craft users are women over the age of 65, but it's still a big business worth over of $4 billion. What steps are you taking to attract a more diverse audience and increase your market value?
There are three important strategies here, one of them is to attract young people. We try to make our designs and products more appealing to them and use more social media such as Instagram to improve the look of our products in a way that will appeal to a younger generation. We also hope to foster the development of channels different from conventional craft stores, such as general merchandise stores, bookstores, pharmacies and home centers, to increase opportunities for direct contact with our products.
Secondly, we would like to expand the scope of crafts we work on, develop and sell DIY-related products as well as existing categories, so that as many people as possible can enjoy handmade products.
Third, in order to increase the opportunities for people to come into contact with handmade crafts, as I mentioned earlier, we exhibit at many events where many consumers gather, not only in Japan, but also in the United States, Europe and Asia. We exhibit at many events in our industry because we are able to share the joy of handmade through the opportunity for people to come into direct contact with handmade crafts. We are also introducing many how-to videos and recipes virtually on our website and SNS.
Traditional craftsmanship is a very old technology that has been around for centuries and revolves around simple craft processes that have remained unchanged for many years. However, in today's modern world, younger generations are looking for digitization and a way to interact with even old technologies such as sewing with digital tools like an iPhone, for example. What is the relationship between digitization and craft tools? Is it possible to integrate it into your products?
Kinda out of the question, but when fast fashion became popular, many people predicted that the handmade industry would face a tough environment as more and more people would buy cheap fast fashion clothes instead. than making their own clothes, accessories and accessories. other fashion items. However, as a result, there was not so much impact, and after environmental and labor issues were discussed, more people became aware of the importance of embroidering and decorating fast fashion items. , to repair worn or torn clothes and to use them with care. for a long time, and many people started making new handmade items. Many people have also started to take up new crafts.
It is true that digitization is needed in various areas, and we actively promote digitization in our internal business processes, but there are also many people who are engaged in digital detox, where they walk away from digital tools for a time. We believe that digital and handmade crafts will co-exist and thrive even as new digitization efforts are made.
For many B2C companies, e-commerce has grown significantly due to the COVID-19 pandemic. Could you tell us more about this and which of your products became the most popular at this time?
Due to the initial shortage of masks caused by the spread of the novel coronavirus infection, many people started making their own masks, leading many people to continue making handmade masks today . Later, as lockdowns and states of emergency were declared around the world, people spent more time at home and the number of users of video streaming services increased, but likewise the number of people making crafts that they can enjoy at home has also increased. .
Regarding places to buy, the publication of closures and declarations of emergency forced retailers to close or shorten their hours, which increased the number of people using e-commerce sites, and the cottage industry as a whole has seen its market expand.
One of the products in demand during the Corona disaster was the sewing-related products needed to make masks.
You constantly launch new products, such as desktop needle threader, "QUICK" Yo-Yo Makers, Wonder Pins, Wonder Clips and so on. Could you tell us about the uniqueness of some products that you have released recently and that you would like to highlight?
Although it is not a new product, we can cite as an example the "Armure" series of knitting hooks, which are popular in the world market. In addition, the desktop needle threader is also one of our best-selling products. It is a very practical product in which you can simply put the needle inside, press the button and the thread will pass through the eye of the needle. This is particularly useful for the elderly, the main consumers in this industry, since it is particularly difficult for them to manually thread the thread through the needle.
---
office needle threader
---
As for the Wonder Clips, we have developed their hardness based on our research, according to the female grip. The pressure needed to pull the fabric together is consistent with the average woman's grip. It has been less than ten years since we launched this product, but it is also one of the best sellers.
---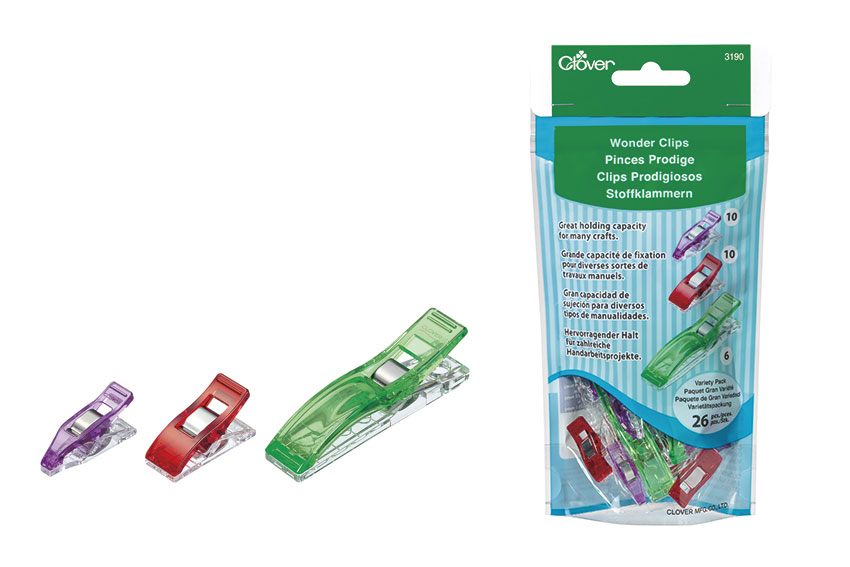 ---
Additionally, new products, such as the Wonder Pins, a curved pin that easily grabs and holds fabric for sewing, have also become popular as unique products.
You have been in Los Angeles, USA since 1983 and now have thousands of products available in the US market. Could you tell us about your plans to increase your sales in this market and what other countries are you focusing on to expand your business?
We will continue to improve the quality of our products and services by exhibiting at many events where many consumers gather and communicating with as many customers as possible, including local specialty stores.
As for the countries we focus on, we already sell our products to the United States, Europe, Asia and other parts of the world, but there are still countries that we are not yet in. entered, so we are looking for reliable partners through online communication to determine the best time for our entry.
Imagine coming back on the last day of your presidency and interviewing you again. What goals and accomplishments would you like to have achieved by then?
At the start of this interview, I talked about our corporate philosophy, which was formulated by myself and other volunteer members of our company based on our corporate credo, "Good Products, good people, good company", which expresses the wishes and ideas of our founder, Toshio Okada. Our purpose is to make people around the world happy and enrich their lives through the handmade products and services we provide. We don't have a specific numerical goal, but we will make as many people in the world as possible happy through handmade craftsmanship. This is the future I would like to pursue.