Vero Marchand, visual ceramist, and Alex Royce, contemporary mosaic artist, present a joint exhibition, on subjects. Marie Françoise Francken, wool spinner, also participates in this exhibition.
" At the beginning of this exhibition: charcoal (disc-shaped body, pierced with a central hole, the weight of which ensures uniform rotation of the hand-spinning spindle), It was found during the last excavations in the summer of 2021, opposite the monastery of Saint-Just, in Valcabrere. This tiny thing connects our three professions, connects antiquity and the present, turning to thread, rope Vero and Alex trust each other.
What leads to another is the weaving of encounters.
Véro Marchand, after doing some research on previous tools, extrapolates, enlarges, reduces the size of these objects, and creates a collection of sandstone and porcelain sculptures, embellished with her universe of imbricated, multi-faceted imprints.
Alex Royce, as a mosaic artist, works with very different and unexpected materials. The creations are inspired by proverbs on spinning, the origin of wool and knitting patterns.
Marie-Françoise Francken will present her spinning wheel and her spindle on Thursday June 6 from 2 p.m. to 5 p.m. You will connect the three professions through their own rotation.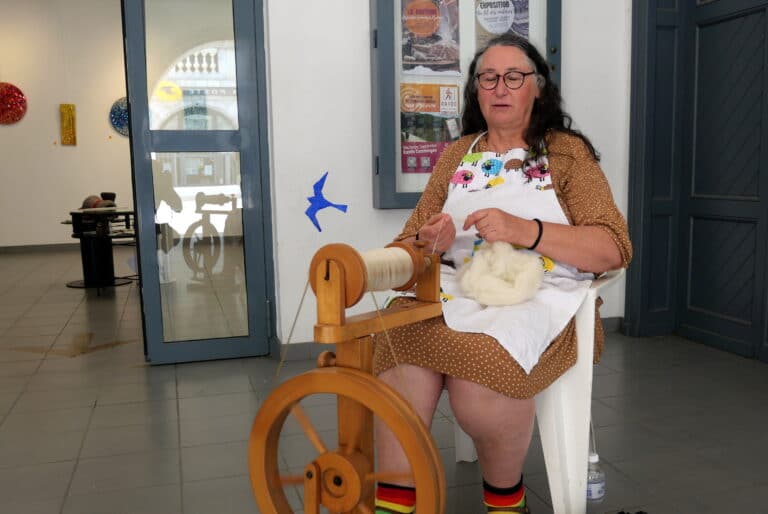 Contact for visits or internships:
Ferro: 06 14 33 39 86 – Alexandria: 07 85 19 97 85 –
Tourist information office 6 rue du Barry. 05 62 00 79 55. The exhibition is visible until June 29.